This summer I'm participating in Extreme Blue which is an internship program where a team of students collaborate with experienced IBM engineers and managers to produce high value technology. The teams attempt to bring innovative solutions to real business problems. All in all it's pretty exciting.
I'm working with an IBM team based in Victoria, BC which is quite removed from my current home: Ottawa. While I'm in Victoria, I'm staying in one of the UVic residences, which presents a bit of a challenge in terms of commute. I don't have a car, it's a little far to walk which leaves taking the bus or getting creative. Since I'm not overly fond of relying on taking the bus, last weekend I picked up a bicycle at a local bike shop and have started commuting by bicycle.
Now that I've got a bike, I have to find a route to and from work that I'm happy with. The first is 7.8 km and dead simple. I take one of the main roads leading away from the university (Mackenzie) and follow it until I hit a second major road (Quandra), which I follow north until I get to work. While direct, this route has substantial traffic, intersections and inconsistent bike lanes that make it less than pleasant.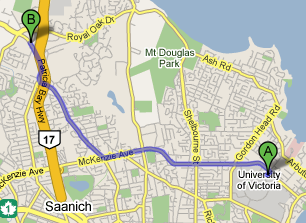 While, the second route under consideration is slightly longer, 10.8km, and not quite as dead simple to follow, it takes the rider along the ocean and through Mt. Douglas Park while subjecting them to less traffic and controlled intersections. While, the second route is unmistakably nicer, I'm not sure I'm up to handling the marginal 3.0km. Maybe as I get back into the habit of cycling, I'll consider taking the route through the park, particularly on a leisurely bike home.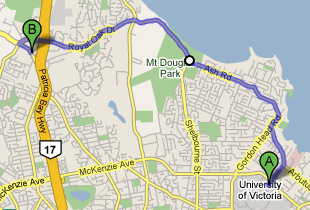 Next week is Bike to Work Week, so I'll be practicing my commuting skills and planning to hit up at least a few of the celebration stations throughout the week. At the very least I'll be hitting up the wrap-up barbecue.